Surveillance IQ™: SAP IQ Server Monitoring
Essential tools for real-time performance monitoring, issue identification and resolution, rules-based event management, data repository and reporting
Supporting the big data analytics of SAP Sybase IQ server, Bradmark's Surveillance IQ delivers essential turnkey performance monitoring and utilization metrics for complex data analytics tasks to ensure unsurpassed IQ query performance.
Monitor key IQ metrics such as:
Multiplex Status
Global Server Health
Storage and Memory
DBSpace and External Space Utilization
Transactions and Connections SQL Execution
System and Server Settings
IQ Multiplex Monitoring
Surveillance IQ provides centralized views of all open transactions and associated "other versions". In an IQ multiplex environment, "other versions" resolution is a timeconsuming, manual process whereby requiring a DBA to collect information from every server.
Proactive alerts and comprehensive dashboard monitoring provide quick problem diagnosis to ensure availability and reduce the time spent by DBA staff solving multiplex related issues. DBAs can also analyze external files such as the Catalog Store, Catalog Log, IQ Message File, and the server log directory for size and available space and the configuration view shows the IQ configuration settings.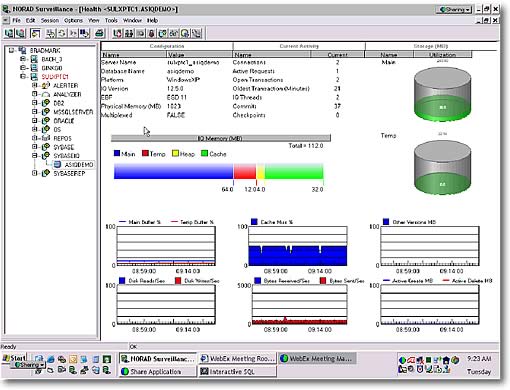 "The availability of Surveillance for Sybase IQ further demonstrates Bradmark's commitment to providing proactive infrastructure monitoring and management solutions for Sybase customers. The teaming of Sybase with Bradmark creates an unprecedented offering for customers that need a high performance, highly reliable analytics engine for faster reporting, predictive systems, as well as consolidated data marts and warehouses."
— Dan Lahl,
Former Senior Director of Product Marketing at Sybase