Managed IT services allows customers to free-up resources in your organization. Leverage a mix of onshore and offshore managed IT services to selectively outsource operations and management of software infrastructure, as well as the development, maintenance and optimization of applications.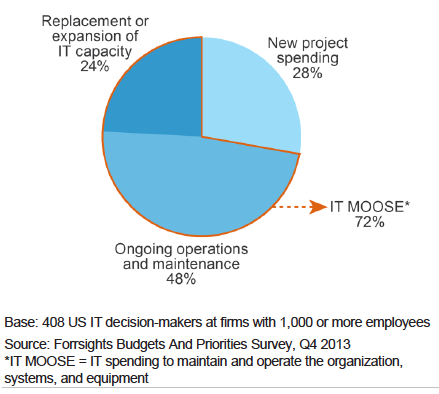 Outsourcing mitigates application and business challenges by supplementing existing IT staff to perform day-to-day administration activities, lower cost of administration, and improve the quality of service. It enables business to innovate, focusing on business issues rather than deal with technology challenges.
According to data from Forrester's Forrsights Budgets And Priorities Survey, Q4 2013, three-quarters of a firm's total IT budget as a percentage of revenues is spent on IT MOOSE (IT spending to maintain and operate the organization, systems, and equipment), leaving just more than one-quarter for new project spending (see Figure 1).
We provide full production DBA coverage, on a 24x7 basis, with service provided by on-shore experts:
DBAs for a fraction of the cost of full time DBA coverage
Database activity monitoring and security information management Monitoring hardware and software components
Event tracking from issue to resolution
Proactive performance and maintenance monitoring
Database issue resolution
Ongoing performance tuning
Crisis mitigation
Disaster Recovery/High Availability