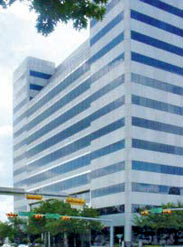 Bradmark Technologies, Inc. is a privately held, Houston-based software company founded 1981. Providing industry leading database management solutions and services, Bradmark empowers IT organizations worldwide that demand high availability and high performance systems.
< Click to review Bradmark's 30-year time line!
Bradmark's mission is to provide data management solutions in support of our customer's business challenges.
Today, Bradmark is a full-service provider for SAP database and technology providing: SAP database products, database monitoring technology, and consulting services. By acquiring integral solutions from a single supplier, Bradmark lowers a company's overall TCO, and further increases its value to customers by becoming the single point of contact for planning and problem resolution.
Our flagship database monitoring solution, Surveillance DB™ provides industry-leading performance management capabilities for SAP-Sybase, MS SQL Server, Oracle, DB2 and Informix databases — running on UNIX, Linux and Windows OS environments.

A pioneer in microcomputer technology, founder and CEO, Bradley Tashenberg, is a recognized leader in the field of distributed data processing. He authored several books on the topic, and over the last 35 years, he has fostered many computer software products and received numerous awards for technical speaking. Through Bradmark, he has helped sponsor several scholarships within the HP user community and has made sizeable contributions to several Houston area art and music organizations.
Having served more than 350 of the Global 500 companies, and selling more than 15,000 licenses worldwide, Bradmark places emphasis on ensuring the success of its customers by providing a quality product coupled with the highest level of customer support. Bradmark prides itself as one of the first companies in the industry to offer 24x7x365 technical support.
Headquartered in Houston, Texas, Bradmark has international offices in the UK, Germany and The Netherlands. Additionally, Bradmark also reaches a global audience through a network of Channel Partners and International Distributors.