The recommended choice for top-tier database management, Surveillance DB™ provides comprehensive, real-time monitoring of detailed performance metrics and user activity in support of SAP Sybase ASE's extreme transaction processing environment and beyond.
Provides full support for ASE 16.0 SP02
Surveillance delivers more powerful monitoring capabilities to ensure SAP applications run faster on SAP ASE. New monitoring functionality include:
Agile historical analysis - Top SQL by hour
Detailed ASE spinlock analysis - Histograms of data cache partitions spinlocks
Timed event analysis for running or recent ASE SQL
Support for ASE database encryption

Surveillance utilizes ASE MDA tables to monitor over 2500 metrics. The unattended, event management feature allows users to get immediate feedback of performance issues on ASE servers throughout the enterprise. Surveillance ships with a comprehensive set of pre-defined rules and alerts that can be easily configured and can utilize statistics available from Monitor Server, DBCC or MDA monitor views.


See High-Level ASE Server Health
Click screen to view automated monitoring capability examples.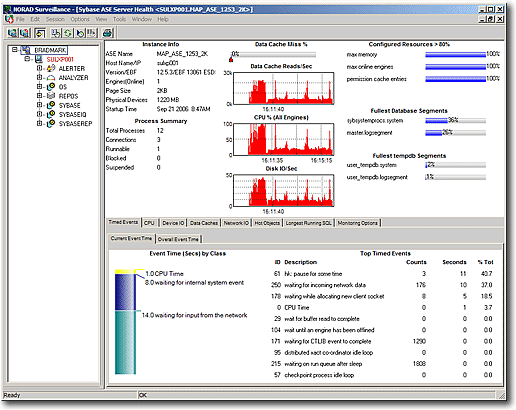 "Surveillance demonstrates Bradmark's commitment to providing top tier monitoring solutions for the Sybase ASE database marketplace. Sybase ASE has established itself as one of the most cost-effective data management platforms for business-critical computing and Bradmark's offering will complement ASE's capabilities."
— Raj Rathee, ASE product manager, Sybase