Bradmark's Surveillance™ monitoring solution is the only comprehensive, end-to-end monitoring tool that supports your entire Sybase stack — as well as the operating systems. Surveillance helps you monitor, manage and control simple to complex data environments with integrated toolset that gives you the power to improve database quality, productivity and performance. So now, you can deliver tangible business value by minimizing time to deployment, meeting service level agreements, reducing costs and optimizing performance.

---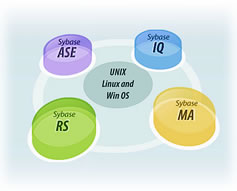 End-To-End Sybase Monitoring
Surveillance can be up and running out of the box in a matter of minutes and DBAs can take advantage of this powerful monitoring suite immediately. From the simple to the complex, Surveillance will grow and develop with your team and is the only end-to-end monitoring tool for every Sybase environment as well as the operating systems and other database environments.
Surveillance helps organizations: