---
See the latest product enhancements in Surveillance 4.3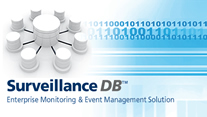 With over 25 years in the IT software industry, Bradmark continues to achieve powerful, real-world expertise in the development of database infrastructure management. To mitigate risk and ensure the efficiency of your organizations digital assets, advanced solutions to automate many of the manual tasks that a DBA must perform daily are essential.

For distributed systems, Bradmark provides powerful monitoring and data administration tools to ensure availability and performance for applications, databases and underlying technology. Supporting Oracle, Sybase Microsoft and IBM database investments that run on UNIX, Linux and Windows operating systems, Bradmark is the single, integrated source for DBAs to manage multi-database, multi-OS system enterprise environments.

---
Monitoring and Event Management Solutions
Surveillance DB Suite
For Oracle, MS SQL Server,
Sybase and DB2-UDB
Proactive, enterprise solutions that quickly identifies problems and alerts DBAs before impacting data availability. Ensures peace-of-mind of knowing that databases that are the core of your business applications are being continually monitored.
Surveillance DB
For Sybase Adaptive Server Enterprise
Provides real-time diagnostics, unattended event management, and historical analysis of the performance and utilization of your Sybase ASE environment. Capture high-level comprehensive views of the overall health of your ASE to determine root cause performance bottlenecks.
Surveillance IQ
For Sybase IQ Server
Surveillance IQ multiplex alerts and comprehensive dashboard provide proactive monitoring and quick problem diagnosis to ensure availability and reduce the time spent by DBA staff solving multiplex related issues.
Surveillance RS
For Sybase Replication Server
Allows you to monitor the overall health of the Sybase Replication Server and can be used in conjunction with the ASE and operating system components to provide a complete view of the system.
Surveillance MA
For Sybase Mirror Activator
Working in conjunction with storage replication systems, Surveillance MA provides monitoring and alerting capabilities that enhance replication data reliability and performance.
Surveillance OS
For UNIX, Linux and Windows OS
Provides highly flexible OS Heartbeat Monitoring for monitoring one or more servers that can be configured to minimize overhead on either the server or the network while implementing redundancy for greater reliability.
---
Database Administration and Performance
DBControl Online
For Oracle
Provides uninterrupted data availability while performing reorgs, structural changes and partition management in your Oracle environment. Perform critical maintenance during regular hours, allowing the DBAs to take more, holidays, evenings and weekends off.

DBControl
For IBM DB2-UDB

Database Administration and Schema Evolution tools allow DBAs to manage and control their DB2 UDB databases. By speeding up and simplifying routine tasks, this powerful tool reduces errors and increases productivity.
Solutions for the HP e3000 Environment
For over 20 years, Bradmark has developed and specialized in database administrative tools to monitor, manage, and alter the structure of the database, as well as providing diagnostic tools to detect and correct defects in the HP e3000 IMAGE database and MPE system environment.