Sybase Web Seminar:
Surveillance for ASE & Replication Server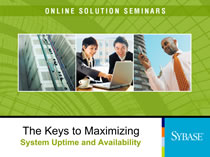 Join Sybase's Joseph Shaffner, NAO Technical Sales Manager and Bradmark's Ed Stangler, Senior Development Manager as they host a one-hour Web seminar to demonstrate how Surveillance monitoring, management and reporting tools monitor the availability and performance of your entire Sybase environment.
| | |
| --- | --- |
| | (Printable PDF; 180K) |

Surveillance RS monitors the availability and performance of the Sybase Replication Server and can be used in conjunction with the ASE and operating system components to provide a complete view of the system. One window, with a drill-down capability, provides a high-level overview of reliability and performance metrics such as thread status, partition utilization, inbound SQM activity, outbound DSI queues, transaction exceptions, memory utilization and the status of warm standby pairs.

Additionally, configuration of the Replication Server is monitored, including all configuration parameters stored in the RSSD that affect operations. The full functionality of Surveillance is available to implement custom rules and alerts for the organizational and operational requirements of the business.