Services Request Form:
Contact us today to get started, or learn more about Bradmark Professional Services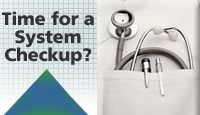 Click here to get a Bradmark specialist review your current Surveillance system.

Surveillance HeathCheck

The Surveillance HeathCheck program begins with the assessment of the architecture, configuration and operating environment of the Surveillance deployments to achieve a high performing implementation based on best practices. This program is an interactive engagement with a Bradmark expert geared toward reducing common risks encountered during the deployment of your project. Typically five days long, this engagement is designed to help customers realize the long-term benefits associated with performing proactive resource utilization assessments customized for their Surveillance environment.
Download Datasheet:

Surveillance HealthCheck

(PDF; 360K)
---
HealthCheck Engagement
Description

Assess the architecture, configuration and operating environment of the Surveillance deployment to achieve a high performing implementation based on best practices.

Version

Any version

Duration

3-5 days

Deliverables

Installation, Knowledge transfer, Quick Start Report

Assumptions

The Consultant has needed access to the systems
Duration is based on installation of number of systems being reviewed and must be defined as part of the engagement
Any additional specific requirements will be addressed separately
Task

Description

Target Schedule

Prior To Start

Customer to provide the following:

Pre-engagement meeting/call to gather information (Scoping Questionnaire)
Access to the systems Sysadmin/DBA for activity coordination

Preparation

Review of environment and verification that systems are ready for assessment

Day 1 - 2

Review System

Perform assessment of current Surveillance environment

Day 1 - 2

Evaluation

Review and analysis of findings

Day 2 - 3

Knowledge Transfer

Ongoing throughout tasks

Day 1; 3 to 5

HeathCheck Report

Documentation on the findings and proposed implementation plan

Days 3 to 5