DBControl Online passes SAP's Integration Assessment
The ICC-Lab of SAP AG Walldorf has conducted an Integration Assessment of the Bradmark Technologies solution DBControl Online for Oracle. DBControl Online provides uninterrupted data availability while performing data reorganization and partition management of your SAP - Oracle database, with the goal of maximizing availability, performance and reliability of your SAP R/3 environment.

During the assessment, DBControl Online was tested with a demo SAP R/3 environment using an Oracle 9i database on a RedHat Linux operating system. The test cases were conducted based on predefined test cases described in the Test report "Official Test Protocol for IA on Bradmark Technologies DBControl Online.doc".

DBControl Online has been evaluated in an SAP solutions environment, and SAP is satisfied that it meets the test requirements and poses no risk to SAP customers.

Read more...
---
Hyundai chooses NORAD to drive Oracle environment
Bradmark Software Maintains the Availability of Critical Data

HOUSTON — December 19, 2003 — Bradmark Technologies, Inc. an established provider of enterprise monitoring and database administration tools, today announced that the Kia Division of Hyuandi in Seoul, Republic of Korea has standardized on Bradmark products, including DBControl Online and Surveillance DB to manage and monitor their Oracle databases.

NORAD® is a fully integrated suite of tools designed to help the DBA monitor and maintain a single relational database environment or an enterprise of hundreds of disparate servers and databases. NORAD is the most comprehensive product suite on the market for maintaining database and system availability. Hyundai's cars and sport utility vehicles provide customers with many features and a high level of performance at an affordable price. Every vehicle in the lineup demonstrates Hyundai's emergence as an auto manufacturer whose products compete successfully in technology, quality, styling and refinement with automobiles from around the world.

After extensive benchmark testing of products from the leading database management software vendors, Hyundai selected Bradmark's NORAD® suite to monitor and manage nineteen HPUX, Sun and AIX servers and a variety of Oracle databases. With NORAD Surveillance and DBControl Online, Hyundai administrators will be able to detect and resolve problems in their operating system and database environments before performance degradation or downtime affects end users.

" The Hyundai environment is an ideal, mission-critical showcase for the performance and productivity that Bradmark products deliver," says Mr. Lee Kwangbae, General Manager of ISC Global, Bradmark's Korean distributor. "Hyundai was in need of a solution that would help maintain the availability of their critical Oracle databases. The NORAD suite allows them to maximize their investment in Oracle by providing the ability to reorganize tables online."
---
How Much Downtime Can You Afford?
Special Supplement
Published in DM Review; June 2002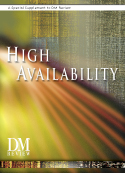 In the past, only a few applications were considered critical enough to require high availability. These were usually found in large companies in selected industries
such as financial services and telecommunications.
More recently, as new technologies such as the Internet have emerged, businesses have introduced many new applications that would not have been possible even a year or two ago. These new applications have improved productivity, provided better information to decision-makers and increased the speed of business transactions. But they have also made companies much more dependent on their computer systems. Many more businesses than ever before cannot operate effectively if key applications are down.